I went to high school with Neil Patel.
Coincidentally, we both sold burned CD's at school and worked at Knott's Berry Farm doing park services (which is basically a fluffed up title for janitor)
.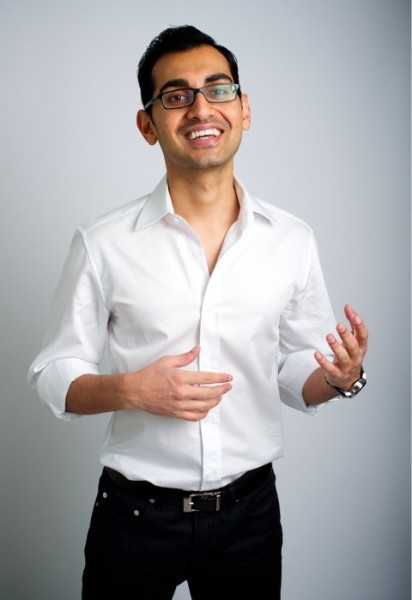 Who in the world is Neil Patel?
I don't know, let's ask wiki: Neil Patel (entrepreneur)
Neil Patel is a Seattle based entrepreneur, angel investor, and analytics expert.[1][2] He is best known for his work in digital marketing and as the cofounder of the analytics companies KISSmetrics and Crazy Egg.[3][4]
Patel launched his first online venture, a job board named Advice Monkey, while in high school.[5] After the marketing companies Patel hired for the project failed to gain the company any traction, he decided to learn how to drive traffic to his site, thus launching his career in online marketing.[6]By 2009, Patel had implemented his marketing and search engine optimization tactics on 30 of the top 100 Technorati blogs and was named one of the top influencers on the web by The Wall Street Journal.[3][7]

In 2006, Patel started his first blog, ProNet Advertising.[8][9] The next year, the blog was named Search Engine Journal's "Best Social Media Blog" and first ranked in Technorati's Top 100.[4][10][11] Patel's current blog, Quick Sprout, produces annual revenues in excess of $1 million and has been featured in news outlets including Inc. Magazine, Forbes,Gigaom, and Business Insider.[12][13][14][15][16]
Patel is also a contributor to publications including Entrepreneur Magazine, TechCrunch, Mashable, Business Insider, SEOmoz, and Geekwire.[17][18][19][20][21]

Advantage Consulting Services (ACS)[edit]
In 2002 Patel co-founded ACS, an online search engine optimization(SEO) and marketing company, with business partner Hiten Shah.[22]By 2007, the company was doing more than $2.5 million a year in sales.[22] Patel and ACS would continue on to consult a variety of Fortune 500 companies including Hewlett Packard, Samsung, Amazon, Microsoft,AOL, Walmart, General Motors, and Viacom.[4][11][23][24]

Crazy Egg[edit]
In 2006, Patel and Shah founded Crazy Egg, a company which helps individuals and businesses determine what visitors are doing when they visit their site.[25] The information is displayed in "heatmaps", showing where visitors clicked while on the site, a more visual method than the traditional analytics programs available at the time.[26] Shortly after launch, Patel reportedly had a $5 million offer to sell Crazy Egg, yet declined, saying he felt the company would sell for at least $10 million.[27]

KISSmetrics[edit]
In 2008 Patel co-founded KISSmetrics, a customer analytics platform designed for small and mid-sized companies, again with business partner Hiten Shah.[1][28] Patel describes KISSmetrics as Crazy Egg 2.0–the service shows who visited, their actions, and how companies can use that information to improve sales and customer experience by tracking the lifelong value of the customer.[1][29]

The company closed a $1 million seed round led by True Ventures in 2008. In mid-2009 it closed a $3 million round led by Polaris Ventures, and has also secured angel investments from Dave McClure, Bobby Yazdani, andNils Johnson.[30] Patel's advisors at KissMetrics include Eric Ries, Sean Ellis, Jeff Veen, Jeff Hammerbacher, and Ed Baker.[30]

Since its launch in May 2008, the company has signed on more than 1,900 paying customers and has tracked more than 4.5 billion people and their 36 billion interactions.[1]
Basically, he's the first person who introduced SEO as a service. Now he does analytics and blogs about marketing.
—
Originally posted on Quora.
Leonard Kim consults startups and writes books like The Etiquette of Social Media: How to Connect and Respond to Others in the World of Social Media