Leonard Kim is the author of the book, The Etiquette of Social Media: How to Connect and Respond to Others in the World of Social Media.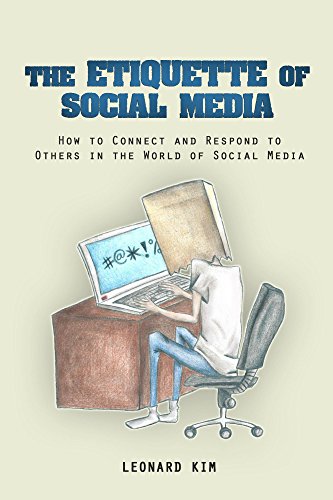 Description:
30% of College Admissions Officers found something online about an applicant that negatively impacted their college application. [1]
More than two in five (43%) Hiring Managers found information online that caused them not to hire a candidate. [2]
"The days of keeping your personal and professional profiles separate are over," Geoff Smith – Experis (BBC) [3]
Is social media preventing you, or someone you know from achieving their dreams and desired opportunities? Quite frankly, it is hard to say, as usually when we are denied something, more frequently than not, we are never told why.
From the statistics above, we can see that social media is a huge determining factor in whether or not us, our children or our friends and family are accepted into the college of our dreams or into our dream jobs.
In my professional life, I have always been told that an ounce of prevention is worth a pound of cure.  In other words, it is better to be fully equipped and prepared for the opportunity as it arises, as opposed to wondering what we did wrong after we are passed up.  Much like how a building must have their foundation built into the cornerstone that allows it to withstand the tests of time, we must have our foundation etched and chiseled out so we can be the best that we can be.  This book, The Etiquette of Social Media, is the complete guide on the basic foundation that we all need to ensure that our online image is bulletproof from being judged by the decision makers of the world who may be able to have control of our destiny.
Table of Contents:
INTRODUCTION
WHY ETIQUETTE IS IMPORTANT
VISIBILITY: CAN EVERYONE POTENTIALLY SEE WHAT I WRITE?
BE. DO. HAVE.
PERSONAL ETIQUETTE
RESEARCH AND WHY IT'S IMPORTANT
HOW TO INITIATE A CONVERSATION WITH A POTENTIAL FRIEND
HOW TO INITIATE A CONVERSATION WITH A POTENTIAL BUSINESS ASSOCIATE OR CLIENT
HOW TO SEEK OUT A MENTOR OR ASK FOR ADVICE
NASTY PEOPLE. TOXICITY AND ITS DOWNSIDES
THE IMPORTANCE OF SELF-CONTROL AND ZEN STUFF
HOW TO RESPOND TO NASTY COMMENTS
TIPS TO A HAPPY LIFESTYLE, LIKE DRINKING TEA AND HAPPY RELATIONSHIPS
CONCLUSION: START CONNECTING TODAY
BONUS CHAPTER: DON'T BE AWKWARD
Snippet / Preface:
It was another day in summer. I had just created a brand that was picking up momentum. A brand in myself. I was a year into my project. I had millions upon millions of views on my content. I was at a point in my brand where I needed to make a decision on what to do next.
I have a background as an executive at a few startups where I made something from nothing. So I thought, 'What should I do?' Should I consult? Run an SaaS (Software as a Service) company? Create a personal development program? Look for a new executive level job?
Unsure of exactly what to do, I decided to take a break and quit everything for a while. In doing so, something surprising happened. I ended up finding a girlfriend. We shared our first moment together with ice cream. After she came to know me better and realized that I didn't really have any goals in life, she told me that I was like a kid in an adult's body. But I was on vacation from my responsibilities. So I figured it was time to get back into focus and start working again.
During my hiatus, I reached out to my mentor, best-selling author James Altucher. He was in Thailand, taking a break from life just before the release of his newest best-selling book, The Power of No. I sincerely asked him for advice. He told me that I should write short books. The idea made sense to me. It was something that I could do. I decided to share what I have learned over the years in the form of books.
I crowdsourced ideas on what to write about. After gathering a few ideas, I started to rank them according to importance. Then my friends Terrence Yang and Vivy Chao of Yang Ventures invited me out to dinner. Vivy Chao has an extensive background in education. She's been a professor, vice principal of a school, and currently works as a fellow at the Los Angeles Unified School District through Education Pioneers. She is also a blogger for The Huffington Post.
We were discussing the types of messages and comments that we receive on the Internet and how absurd they are. How some people send us their life stories, while others use cookie cutter platforms and don't even attempt to connect.
Having a background in education, Vivy mentioned how it is such a shame that with how new social media is our education system doesn't teach the etiquette of social media. Then it dawned upon me. With my experience on social media over the last few decades of my life, I had the know-how to provide my insights on the topic.
Thus came the inception of the idea of the book, The Etiquette of Social Media.
I believe that no person should have to live without the advice that is within this book. For every ten people who purchases a copy of The Etiquette of Social Media, I will donate a copy of my ebook to someone who doesn't have the resources to acquire the book on their own. My goal is to give out a free copy of my book to each person who is nominated. In order to do so, we will have to help spread the word about the book.
How to Nominate your friends to receive a free copy: Nominate your friend to win a copy of Leonard Kim's first book, The Etiquette of Social Media
Winners may be announced through Twitter and Facebook.
Where to buy The Etiquette of Social Media:
Paperback (Available in the United States, the UK and Europe):Amazon.com: The Etiquette of Social Media: How to Connect and Respond to Others in the World of Social Media (9781500918538): Leonard Kim: Books
eBook (Available everywhere): The Etiquette of Social Media: How to Connect and Respond to Others in the World of Social Media – Kindle edition by Leonard Kim. Reference Kindle eBooks @ Amazon.com
Paperback Amazon India: Buy The Etiquette of Social Media: How to Connect and Respond to Others in the World of Social Media Book Online at Low Prices in India
Paperback Flipkart: The Etiquette of Social Media (English) – Buy The Etiquette of Social Media (English) by Leonard Kim Online at Best Prices in India – Flipkart.com
eBook India: How to Connect and Respond to Others in the World of Social Media eBook: Leonard Kim: Amazon.in: Kindle Store
Etiquette is an important part of our every day lives. I was always under the impression that every person knew about such etiquettes. That is, until my inbox flooded and there were comments all over my content when I started to become popular online. After seeing how so many people didn't understand etiquette, I saw that it was becoming an epidemic.
Do your part in preventing this epidemic from spreading. If you see a troll or someone who is leaving a rude comment on any article on the Internet, share the link to this book. These people need it the most. Here are some examples of some comments you can leave:
John, what you have said is quite rude. It seems like you may need to pick up some lessons on etiquette. This book can help! https://amzn.to/1pCBNij

Sardina, since your mother didn't teach you proper manners, I'll help you out. Read this book: https://amzn.to/1pCBNij

Jackie, how would you feel if you were on the receiving end of this message? There's a person there, with feelings! Respond better by reading this: https://amzn.to/1pCBNij

Billie, have your parents ever told you that you shouldn't touch a stranger's hair? Rude comments are also a no no. Learn some class: https://amzn.to/1pCBNij

Wow Joe, I can see an employer tossing your application in the trash after reading your remarks. Maybe you should start studying this guide: https://amzn.to/1pCBNij
But don't stop there. These principles need to be taught to our youth, spread in our school systems and practiced in business environments. Tell your friends, teachers and business associates about the book. Share the lessons you learned with others. Gift a copy of the book to your children, or your friends on their birthdays and other special occasions. Write your personal review on Amazon.com. If you have an existing email base, send the message out to your subscribers.
Or if that is too difficult, the least you can do to participate in the movement is to take a Picture of yourself reading the book. Tag it on social media outlets with the hashtag #socialmediaetiquette.
Thank you for joining me on this journey. If necessary, I will readily be available for interviews and speaking engagements and I look forward to creating more books throughout the years.
Want to contact Leonard for consulting, an interview or a speaking engagement?
Email him at: Hello@LeonardKim.com to discuss matters further.