I recently came across this book on Amazon.
KP Wee is the author of several books, most recently "Tom Candiotti: A Life of Knuckleballs" (sports biography), "Fess Up, Jessup!" (short fiction), and "Oh So Close, Canada!" (sports history). KP was previously recognized as a Top Writer on Bleacher Report, a sports website creating and curating content about trending news topics. He currently blogs at kpwee.com and alifeofknuckleballs.com. He also sometimes provides commentary and advice on Quora.com, a $1 billion company focused on sharing knowledge and practical solutions to problems.
KP enjoys writing sports, psychological fiction with a twist of romance, and (some day) chick lit. He spent a decade working as a program developer and teacher for a private school, before joining the media relations department of the Vancouver Canadians baseball club. Though the experience was fun, KP found that he had very little time to do what he truly enjoys – writing – so he left to pursue a job in advertising.
KP can be contacted at [email protected]. Follow him at @kpwee1 on Twitter.
Website I Facebook I LinkedIn I Quora I Goodreads I Twitter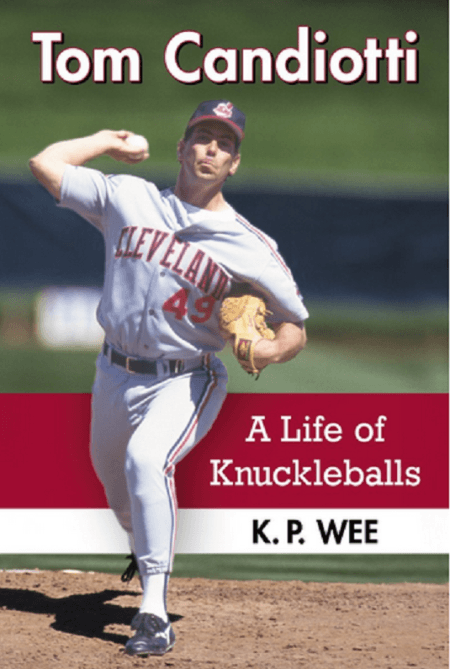 TOM CANDIOTTI: A LIFE OF KNUCKLEBALLS
If you watched baseball during the 1980s and 1990s, undoubtedly you have heard of Tom Candiotti, who is currently a color analyst for the Arizona Diamondbacks. He normally works the radio broadcasts but sometimes gets assigned television work as well with the Diamondbacks. He was formerly a knuckleball pitcher in the major leagues.
Why is there a book written about Candiotti? Well, his story is an inspirational one. He overcame a major surgery that would have forced him to give up baseball when he was in his early 20s had the procedure not worked. He actually lost money when he played for a team in Victoria, Canada, when he was trying to make it to the majors (he made around $10 Canadian per day). He was constantly told by scouts and coaches that he would never amount to anything in baseball. He never gave up and got to where he was. Someone like that deserves a book written about him.
Candiotti's story is also a historical one in the context of baseball. According to Candiotti, he was only the 20th pitcher in the major leagues to use a knuckleball as a primary pitch on a full-time basis. Obviously, being the 20th player in baseball history to accomplish a feat means you deserve a book written about you too.
I am in fact the person who wrote this biography about Candiotti's career, which was published by McFarland & Co. in August of 2014.
I wrote this book because I wanted to recognize him for his pitching as well as the struggles he faced in order to get to the majors. His story is one that has been forgotten but I believe can be a source of inspiration and motivation for others. I thought that if he had pitched in the social media era that we are in now, he would have been more recognized the way other athletes are publicized these days. Most sports fans know about basketball player Jeremy Lin having to sleep on a buddy's couch because he didn't have anywhere to stay – and that's because of social media. Candiotti, similarly, had to overcome this situation and also a major elbow surgery, known as Tommy John surgery, to get to the big leagues [1]. However, not many people remember this about Candiotti.
During his pitching days in the major leagues, Candiotti threw a knuckleball as his main pitch, playing primarily for the Cleveland Indians and Los Angeles Dodgers. He also pitched briefly for the Toronto Blue Jays, Milwaukee Brewers, and Oakland Athletics. Because knuckleballers are rare in the game – as the pitch is very difficult to throw – Candiotti was one of only three or four active pitchers who used that pitch in the entire major leagues throughout his career [2].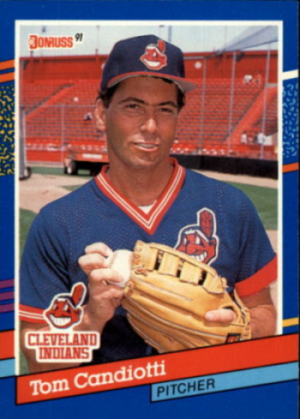 Candiotti did not receive a lot of accolades, however, during his career because he was often the victim of poor run support, especially with the Indians and Dodgers. He even suffered a losing record (6-7, 2.98) pitching for a first-place team in Toronto in 1991! He was often overlooked by the media for his fine pitching, as his 3.44 ERA for a full decade from 1986-1995 indicates. His career losing record (thanks to the poor support), coupled with the fact that pitchers who can throw 95-100 mph are more highly regarded, contributed to the lack of coverage he received [3].
Here is the link to the book that I wrote about Tom Candiotti, who was very gracious and generous with his time when I kept calling him to clarify various points about his career.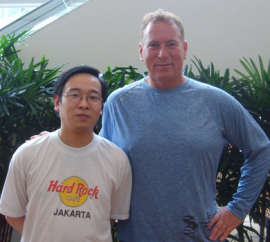 Those who have picked up a copy of this book have messaged me to let me know they enjoyed it, and here is one who sent me the following:
It was about time someone wrote about the charismatic Tom Candiotti
As a fan of Tom Candiotti, I always wondered why he is so grossly underrated that at times it seems almost criminal to me. After reading this ebook (an extremely essential text even from a historical point of view) I came to know why. Truth to be told, after I finished reading it I realized how little I knew about the man himself. Once you read this ebook: you will agree with me that it is a shame that Candiotti was never acknowledged as one of the best pitchers ever in the Dodger history, given his remarkable contributions. It is true indeed that you are only as good as your last game; people don't remember how great you fared in the past, if you lose one, yes, just ONE game, people will keep harping on that and hurling potshots at you.
How many pitchers are there who can boast of a 3.73 ERA after going through the Tommy John surgery (he was the second person to be in the majors post-surgery)? Not many. But Tom did it, and he could do it because he was disciplined and hardworking. He KNEW he could do it – he was a passionate and dedicated player who was determined to make a big comeback.
I think that Bill Bryk nails it in the head when he says of Tom, (I am quoting from the ebook itself) "Tom was smart enough to realize that he could get to the big leagues without a knuckleball but probably would've never stayed there and been as successful .That knuckleball prolonged his career. Once he developed that pitch, he became really successful for many years in the big leagues." Just how much of a sensation Tom was back in the day can be conjectured from the way Candiotti talks of the ALCS loss "People loved me there…I always got a great response from the crowd…They'd follow me around when I left the SkyDome Hotel to grab a bite…They were mad because we didn't win."
Tom Candiotti has been through a lot of ups and downs in his life (lesser mortals like me would have probably balked at the kind of setbacks which Tom encountered) and if your heart doesn't cry out for him even once while you are reading this ebook, then something must be terribly wrong with you. I really envy the author – I hope I can meet my idol just once in my lifetime.
Although every detail of Tim's life: small and big – has been immaculately chronicled, I never for once found the book boring. All along I felt like Candiotti himself was telling me the story of his life. Considering the length of the ebook, that is a big plus and the author deserves credit for it. The way Tom convinces Dr. Jobe that he is 'worth it' as well as Tom's supposed 'psychic' powers (he is said to have been able to predict the scores of other games) is quite humorous in an odd way. In addition, I love the pictures included in the ebook: they are very rare and hard to come by.
I love reading ebooks which are thorough and well-written, such as this one. I eagerly look forward to reading more from this author.

Once again, Tom Candiotti: A Life of Knuckleballs can be picked up here.
[1] Candiotti was only the second player ever to come back and pitch following this surgery, which at the time was regarded as a radical procedure. The surgery had been performed eight times prior to Candiotti, and seven of those first eight resulted in failures.
[2] When he started throwing the knuckleball, for instance, there were only the two Niekro brothers, Phil and Joe, as well as Charlie Hough, using the pitch in the majors. When those pitchers retired, a couple other notable knuckleballers, namely Tim Wakefield and Steve Sparks, began pitching in the major leagues along with Candiotti.
[3] Fans, as well as the media, are more fascinated with conventional pitchers who can throw fastballs at 95-100 mph. A knuckleball pitcher's fastest pitch (fastball) is around 80 mph, and his knuckleball generally is thrown around 70 mph or even slower.
—
Leonard Kim is an author and consultant. He wrote The Etiquette of Social Media: How to Connect and Respond to Others in the World of Social Media