Sabeen Ali has spoken at TEDx conferences on both sides of the world.
Today she is the CEO of AngelHack, a global community of 50,000 programmers who do events within 52 major cities around the world.
But how did she get to where she is today?
Thanks to two of her phenomenal employees, Matt Wright and Kelsey Ruiz, I had the time to chat with Sabeen for an hour to gather all the insights of what it took for her to get where she is today. Most of what had molded her into the trailblazer she is today started with her childhood.
Childhood:
Sabeen is the youngest of three children in her family. When she was four years old, her father passed away. He was a doctor. Sabeen's mother had never worked a day in her life and barely spoke a word of English. Unsure of what to do and heartbroken from such a traumatic tragedy, her mother decided to leave her home in Chicago, packed up her bags, then flew back to Pakistan.
While she was in Pakistan, Sabeen's mother knew that she needed to figure out something better for her kids, so she took her family and flew out to California, where her former husband's family was.
As a child, Sabeen went from daycare to daycare while her mother tried to learn english by absorbing her surroundings while working two jobs to support the family. Her mother's first job was as an electronic assembler in an assembly line, a job where much english wasn't required. Then, she worked at Fry's electronics, which is like a more niche type of Best Buy. Eventually, she put herself through beauty school, started working at Supercuts with all sorts of odd jobs in between.
In the late 80's, she was able to open up her own hair salon. Looking back, Sabeen recently found out that her mother was able to earn a profit from the sale of the business. After that, her mother focused her efforts in the loan mortgage industry. Once that happened, her family was able to finally afford to buy a house and car. This was when Sabeen was entering high school.
Up until this point, being a single mother of four, Sabeen's mother had to hack life to get ahead. She did everything from taking her family out to Denny's on a birthday so they could get free meals. Her children had to share rooms and sleep on the floor.
Her mom reminds me quite a bit about my mother, who is also a single mother. She would hack life by asking for free food at a Brazilian BBQ place and getting it, or sneaking into the back entrance of a movie theater to watch three movies for free. I tried it out a few times as well back when I was 21. I went to the Pacific Theaters at the Grove with my best friend. She was all dressed up and I was wearing a Versace suit. We told the cashier we were too poor to watch a movie, then proceeded to ask for free tickets. To our surprise, He gave them to us. My ex didn't want to do it, but another time when we were at the theater, I told her to ask for free snacks at the concession stand. We got them. As embarrassing as it may sound, I may have also done this a few times when I was broke by asking my girl friends to ask guys for free drinks at bars, then having them bring them to me.
Being cheap or hacking life?
You decide.
Sabeen had an underlying passion for basketball her entire life. As a child, she practiced relentlessly, as she wanted to join the basketball team; however she was told that she was too short to be a guard and too tall to be a point guard. This was one of the few moments in Sabeen's life that left her burned a little.
One day, Sabeen's mother had brought home a used basketball backboard and hoop that was given to her from a client who was moving away. Thinking of how awesome the hoop was, Sabeen knew that she had to put this up on the garage at their home. So the three happy children galloped around the neighborhood, then knocked at their neighbor's door. They asked for tools to help set up their new center of entertainment.
While asking for the tools, the neighbors asked, "Don't you have any adults in your life?"
The three children responded, "No, we don't."
It wasn't until recently when Sabeen reflected upon that moment that she understood exactly what her neighbors meant with that question. That it is normal for other children to have their parents do things for them. But this was Sabeen, the youngest of three children who lived with a single mother. They had no one to rely on because their mother was busy working all the time to provide for the family. So they were just going to run around and get things done.
Being able to see what hardships her mother had to go through to raise three children on her own while providing them with a world of opportunity, Sabeen came to recognize her mother as her hero. Her mother was the first entrepreneur she had ever seen. Her mother may have been the key determining factor who helped mold her into the successful entrepreneur she is today.
Education and Work:
Sabeen came from very humble beginnings, similar to my my own. We both hacked our way into the tech industry. Sabeen's first job was at Safeway bagging groceries. My first job was working at Knott's Berry Farm picking up trash and cleaning out toilets.
Eventually, Sabeen started working at Kaiser Permanente. She did employee relations and negotiating between Kaiser employees and the Labor Union. That involved a lot of facilitating and risk mitigation. Then, all of a sudden, she had a change of heart. She saw Michael Moore's documentary that came out about healthcare in America and she realized that she couldn't work in that industry anymore.
Sabeen said, "Ugh, I can't do it. I can't be part of this commercialized health care system."
So she left.
Then she attended the University of San Francisco, where she studied for a Master's Degree in Organizational Development with an emphasis on change management. At the same time, she got an amazing job in Mergers and Acquisitions at Yahoo.
This was back around the time when the whole economy was falling apart. Back in 2008, when the real estate and stock markets crashed and the whole world was in panic.
At that time Microsoft was bidding to buy Yahoo. It was all over the news. Everyone at Yahoo was bracing themselves to be bought. It was quite a bizarre time and Sabeen was right in the middle of it, working in M&A.
Eventually, Sabeen left to finish up her Master's degree and have her first child.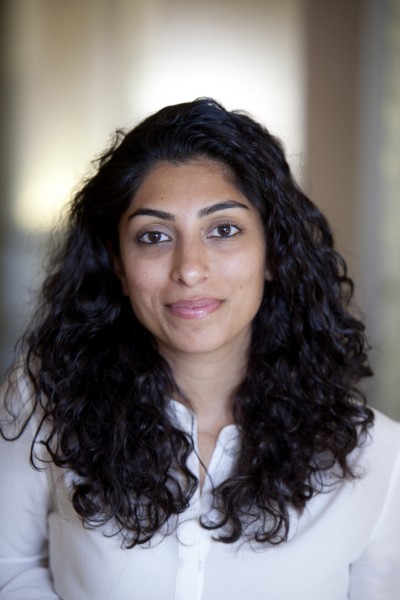 Entrepreneurship:
Prior to founding AngelHack, Sabeen started her first business called Team Building ROI.
Team Building ROI would partner up with high-tech corporations in the Bay area, such as Google, Samsung, Cisco, Apple and the rest. They would work with specific departments or teams and run experiential team building activities. Sabeen would design these activities based upon what their needs assessments were revealing.
Some companies would call Sabeen and say, "Hey, we have this huge project we are about to roll out. Our team needs to let off some steam and there are like 5 more people joining our team of 8. We need to work together and get through it."
Sabeen would run activities and debrief them. These would range from a scavenger hunt to a 50 foot high rope course.
Other companies would say, "Hey, we're having some problems. We're having communication issues, and this and this person are not getting along on the team."
Sabeen would put together activities to face those problems and facilitate them.
Team Building ROI did quite well, but Sabeen graduated from the business one day when she met her next company's co-founder. At the time, this guy was networking like crazy. Sabeen heard that someone wanted to do team building with developers. That was how they ended up meeting for coffee.
Sabeen started the conversation, saying "I think you had an idea for a dating app or something."
He responded, "I just want to meet developers and I'm in Florida. They're so hard to come by here."
The lightbulbs went off in Sabeen's head. She thought of how easy it would be to build events like this with her background in team building and event planning.
Sabeen told him, "Let's organize an event. I can do all the team building and do the logistics of the event. All you have to do is get people to pay for it."
Sabeen put together the logistics, while he went out to get sponsorships for the event. One by one, the sponsors trickled in.
Success:
This led to the inception of AngelHack. In October 2011, the planning phases began. Two months later, the first AngelHack Hackathon went live. AngelHack did team building activities between business oriented people and developers. By the end of the experience, everyone was teamed up and working on apps.
Now, AngelHack focuses it's work in three key areas:
Competitions: Connecting business people with programmers.
Education: Programs to help people code and learn communication skills.
Change Management: White labeling Hackathons for companies throughout the world.
Connecting:
In the beginning of AngelHack, there were only a few Hackathons. On a Sunday, AngelHack would invite a seed investor to come out to take part in the event. They would then fund the team of their choice. It was the only event that anyone could go to where you could form your business and get funded within 48 hours.
Now, Sabeen holds Hackathons in 52 cities around the world. AngelHack was able to build a network this big by delivering results and keeping their word. But nowadays, their philosophy is a little bit different. They do 50 events all over the world and pick one winning team from each event. Then they incubate the winning team and fly them to the Silicon Valley for AngelHack's Annual Global Demo Day where they each compete for seed investments.
Education:
When I first met with Matt Wright of AngelHack at the Starbucks off of Wilshire and Santa Monica in Beverly Hills, he touched base on a new platform that is just being released. Sabeen dug into more details about this in our phone conversation.
What the platform is is a hybrid, 10-week front-end coding course. This program teaches people how to not just prepare their coding skills, but at the same time help them with their interview skills. This program is called The Whole Developer. Since we have so many developers in our community, we wanted to start educating them and teaching them top skills, which include:
Communication skills
Problem solving
Negotiating
Team building
and many more.
AngelHack will start their efforts with The Whole Developer out in May, then move out to Boston and Los Angeles.
White Labeling:
Hackathons are becoming a household name and every single company has been coming out of the woodworks wanting to do Hackathons; however, before this year, Hackathons didn't even have mainstream interest.
This caused us to start white labeling our events for other companies. These companies include but are not limited to, Hearst Corporation, Conde Nast, Hasbro, HP, Cisco, etc. AngelHack is currently working with doing an additional 10 Hackathons with RBC, the largest bank in Canada and planning another 12 Hackathons with MasterCard.
There are a lot of similarities between the change management philosophies and what is done with corporations and Hackathons. A lot of these old corporations, someone within the organization decides they want to do a Hackathon. Then some C-Level executive has to agree to the idea. Then the whole organization need to hop on board.
One great example of this is with Hasbro. Hasbro's headquarters are in Pawtucket. They have never opened their doors to the public. Through the whole process, Sabeen's team had to practice change management to get them to change policies, mindsets and communicate what was happening, because Hasbro wanted to change their motto. Since then, Hasbro has been doing regular Hackathons where they are able to do R&D from outside their organization. They use their Hackathons to funnel ideas. Surprisingly, they bought 8 ideas from the AngelHack Hackathons, something that has never been done before.
Most of the old school companies, their technologies are way behind and are covered with red tape. Cisco is a networking company. They've been trying to pivot to become a software company. AngelHack does a Hackathon for them with an emphasis to integrate their hardware with their software; however if you don't manage that initiative as a change initiative, companies like this won't survive.
Sure, Hackathons are fun, people play and there is a lot of event planning. But at the same time, it is a change and people have to embrace it. Companies like Cisco have to learn that if they want to survive, they have to learn how to embrace software as well as hardware.
I personally have worked in the automotive industry for close to a decade. I see so many problems with software every day. The system that a major Japanese brand uses to track where each car goes is still built on MSDOS. Every single employee who tracks where vehicles are shipped are using a black box to track inventory that is worth tens of thousands of dollars.
Sabeen has worked with other major automotive brands and understands just how far behind the automotive companies are. She recently went to buy a car and just saw how much paperwork was being wasted to all the flaws in the system. She states "It's definitely a broken system that needs to be changed."
Sabeen states that in order to change something though, you have to do four things.
Show people that a change needs to be made.
Get someone to have your back and support change.
Get everyone else to get behind it.
Do what needs to get done.
Trials and tribulations:
With Hackathons, people take a ton of pressure, then a lot more pressure is added to people as you take them to perform under pressure. Because of this type of environment, people come up with all sorts of workarounds and tricks. That is what hacking truly is. Growing up in this type of environment where her family had to go out to make things work, Sabeen became quite familiar with this. So when Sabeen first saw the Hackathon culture, she knew that she was all about this.
Today, AngelHack has developed an extremely solid presence in the tech community, even though it is led by a female minority with a team of mostly women. All the odds were against Sabeen and her team, yet they have created a dent in a male dominated industry. In fact, 80% of the programmers within the AngelHack communities are men.
Building a company as big as AngelHack, there were many ups and downs. In the process of building up AngelHack, Sabeen has always felt like she was building the company with one hand tied behind her back. That was due to the indifferences she had with her cofounder. They had a pretty big falling out with each other to the point of lawsuits and he left with a lot of money. It was a pretty adverse situation for the company to be in, but now, the company is back in place and there is nothing holding them back. Now, AngelHack is experiencing tremendous growth.
Competition:
Sabeen has been traveling the world to meet with her Ambassadors in each of her respective cities. Each time she enters a new tech ecosystem, it's like entering a whole new world. But it's quite hilarious, that every single ecosystem she enters, no matter where it is… Whether it be Mexico, Singapore, or even Buenos Aires, they all say, "Next to Silicon Valley, it's us." Sabeen has heard this in every single city she has gone in and everyone believes they are the next big tech ecosystem in the world.
But then again, there is always quiet before the storm.
Because of the huge demand of the Hackathons that Sabeen has put on, competition has arisen from all sorts of places. For the last 6 months, a new competitor was coming out of the woodworks every other week. The people who started these companies went to an AngelHack Hackathon, thought "oh this is easy", so they went off and tried to do their own thing.
Now AngelHack is doing what they have to in order to keep up with the demand. AngelHack is growing at such a rapid pace, they are currently looking for strategic partners to help them grow because of the amount of interest they are getting every day is just outgrowing them. AngelHack is doing everything in their power to keep up and scale properly.
But in the interim in between, Sabeen was uneasy of what was going on. She emailed her advisor, Mark Cuban and said, "Dude, we have competition. New companies are popping up every 2 weeks. How do we handle this? Should we go confront these people? What should we do?"
Mark Cuban responded with advice that resonated with her and said, "Competition is good. It keeps you on your edge. The thing you have to do is to ensure that your relationships with your clients are solid. Not only does competition keep you on your edge, but it shows that there is proof of concept for your product."
The minute Sabeen saw Mark's email, she emailed him back and said that she needed this pressure if she is going to keep going. Mark agreed and said that he is the same way. Since then, the vision of Sabeen's dream with AngelHack has been crystal clear. Everyone wants to jump at the first opportunity they have, so if they see her being weak or lazy, or even if she fails, they will jump in to take the market.
Now, six months later, more than half of these competitors are non-existent. I recently spoke at Cal Poly Pomona's HackPoly event back in February as the keynote speaker. After I spoke, teams gathered together to work on their projects, but the wifi continually went out on the college campus. I saw first hand how difficult and messy it was to put on a Hackathon, especially since there are so many technical boundaries that challenge the infrastructure of the system.
Sabeen feels that it was as if there was a sense of naïveté, where these founders thought that all they had to do was order some pizza and Red Bull and let people program overnight and charge people for it. People spends their weekends doing an overnighter working on projects, then on Monday, they had to be back at work again. If sponsors had put in money to support events like this, they would be very unhappy. Now, these competitors are starting to learn just how difficult putting on a Hackathon truly is.
Daily life:
Sabeen spends most of her time raising her two children and traveling the world for AngelHack. With what rare free time she has, she spends it gardening with her kids. Sabeen just came back from Iran and Dubai recently, then she will be on her way to Barcelona then Tel Aviv.
Work life balance:
In order to create a work life balance, Sabeen never leaves home for more than 2 weeks at a time. Otherwise, her husband and kids will just go crazy. Then she will spend 3 weeks at home. When at home, Sabeen is mom. The work side of her brain shuts off completely. When out in the field, all she thinks about is work and the family side of her brain shuts off.
One of the best things in Sabeen's life is her husband. He really supports anything she wants to do and takes charge in raising the family. She trusts him so much that when she is away, she doesn't even have to worry about her children.
Having a team that is dispersed throughout the world makes it simple to handle the everyday business tasks. AngelHack has team members in Singapore, the Philippines, Europe, Dubai, many in India, then on both coasts here in the United States. No matter where Sabeen is working, she is always connected to somebody who is working. Plus, after doing this for 3 and a half years, she has just learned to manage it.
Sabeen has thought about having a third child, but has read many articles lately that state 3 is the worst number of children to have. I mentioned that things can get pretty bad when they outnumber you. Sabeen says that it changes the whole course of life, from what car you have to who sits with mom and dad when there are only four chairs. Plus, if they were ever to ride a roller coaster and there is a third person, there is always going to be that one child that is left out and sits alone.
She just hasn't been able to break that barrier yet and doesn't want to do it until she can find an exit with AngelHack. Then she will have as many kids as she wants, but for now, AngelHack is her baby.
Tips to success:
Many of us, especially women feel a sense of "Self Oppression." It's not a real word, but a word made up by Sabeen. Self oppression is when you make up reasons to hold yourself back from what you want to do.
Recently, Sabeen was asked to speak at a TEDx Talk in Iran. Two weeks after being invited to speak, she went back to the organizer and canceled her acceptance. There was no good reason for it, but she was just nervous and tired, as many of us are with the major decisions of life. We have families and additional priorities other than work that take up our days.
She made up a lame excuse of how she had prior commitments and couldn't make it. But inside her heart, something wasn't sitting right with her. She couldn't understand why she passed up such an amazing opportunity and knew she was going to regret it. She went to get feedback from a friend who said, "You're crazy for backing out of that. You have something to say, you just need to go out there and do it. Toughen up, because in a few years, you're not going to get these same kinds of opportunities when you're reenergized."
Sabeen knew he was right, so she contacted the organizer and told him that she would participate. The organizer stated it was okay and people do these things all the time.
Sabeen feels that women in particular, they hold themselves back quite a bit. Especially with the Middle Eastern culture. It is so much easier to say that it isn't okay or my family won't allow me to do it, or I'd rather just be a stay at home mom, even when there is an underlying desire to go out there and do more. But what holds these people back is fear.
The best advice Sabeen has for all of us is to not let fear hold us back. Everybody has it. She told me that when I started writing, I knew everyone fails, everyone is scared and unsure of themselves. But we first need to start talking about it, then we need to figure out small ways to overcome it.
Regardless of who we are or where we are from, it is good for the entire family structure to support our wives, our sisters and our daughters to go out there and make a little more out of ourselves. If nothing else, it provides extra income for the family. At the end of the day, having someone who is fulfilled is an overall better situation for the entire family structure, so go out there and go for it.
There are millions of women around the world experiencing the exact same thing. Sabeen always coaches her team and tells them that the only way they're going to move up in the corporate ladder is to bring up somebody underneath them.
Sabeen puts her priority and responsibility in bringing up other women underneath her and advises the women she works with to do the same. She handpicks women to train and puts all her effort into them. At times, she even jokes with her team and says that she is always in the elevator back down and that they are doing great, but it is their responsibility to send that elevator back down to another female who may be a little unsure of herself, that may need encouragement or to be filled with positive encouragement.
Personally, I have this underlying sense of fear the day before I speak or go on a vacation or do anything major.
I asked Sabeen how to overcome this.
She says to take things one day at a time. If taking things one day at a time is too much, take things one hour at a time. You're never going to have enough time. You're never going to have the perfect day, You're never going to have the perfect opportunity. You have to make your own perfect opportunities.
It's like a basketball game. Sabeen follows the Warriors. They have small players. When another team comes in and puts up big players, you know you can't just clear out your bench or take out your star player. Instead, you surround your star player with bigger players. You can't yell at him for not being big. Instead, you have to try to surround him with people that will extenuate his skills to box out other big players, so he can do his own thing.
If you have things going on, you need to look around and see who's willing to support and help you out. When the time is right, you repay them back and you create that relationship where others will have your back. That's the kind of structure Sabeen has with not only her family, but her team as well. You have to give to them, build their trust, and in turn, then you need it, they will be there to help you out.
How you can get involved:
AngelHack is currently looking for programmers who want to improve their skill set to join their courses. They are also looking strategic partnerships to help handle the growth of the company. Feel free to contact them here to see how you can get involved.
For more on Sabeen Ali, Founder and CEO of AngelHack, follow her on Twitter and Facebook or connect with her on LinkedIn.
For more on AngelHack follow them on Twitter, Facebook and Instagram or visit: AngelHack.