The first thing you need to do is create an executive summary and a mission statement.
After that, you need to study your market, compare yourself to your competition, create a share structure, outline financials, and fill out the rest of the pertinent data like the other people suggest.
Below is an example of the last executive summary and mission statement that I created for a company I was planning to launch earlier this year.
Since I own the company, wrote this from scratch, and decided that I will not be launching this product, I decided to share. (Yes, it is heavily focused on marketing, but that's my primary expertise, if I'm even somewhat good at it… Who in the world knows…)
I worked with a Product CEO and operated as the COO at this company and recruited a highly talented team, however the Product CEO decided to part ways so we scrapped the business.
Also, you may not want to make a public benefit company unless you already have investors you can turn to for sure who don't care what kind of business you own. If you are seeking to raise money from venture capital, then it is highly unlikely that they will invest into your model.
1.0 EXECUTIVE SUMMARY
Company Name | Tagline | An American Public Benefit Company Founded in February of 2013, ("SE") features contemporary women's fashions specializing in comfort, fit and sexiness, established by a diverse group of individuals, led by the C.E.O. Ms. Lee.
SE holds idealistic aspirations of giving back to the underprivileged, creates American Jobs and gives back to the community, while keeping the clientele engaged through social interactions
SE provides:
• A Philanthropic Vision.
• Patriotism.
• Quality Clothing.
• Best Styles for women of the 21st Century.
• Quality Content.
• An Interactive Community.
SE's innovative design and marketing team constructs visionary product campaigns and strategies, designed to push SE to the forefront of the industry.
Derived from the fictional character, Sophia Serrano, from the film Open Your Eyes, SE's inspiration is characterized by Sophia's radiant qualities of being: positive, down-to earth, original, mysterious, sexy, and guileless in a perfect world.
Sophia is the "ideal" woman because not only is she divine in nature, she is able to cope through the greatest obstacles that obstruct her from her path. Simultaneously, Sophia is so unique, she makes a man follow her into the afterlife of his dreams. Not only did she (tagline) in the real world, she left him in need of her in the afterlife.
SE wants other fashion brands and the world to know that everyone in this world matters, no matter your race, ethnicity, financial background or country of origin.
SE empowers people to make a difference by:
• Helping the Underprivileged Children of America.
• Creating American Jobs.
• Providing a more Eco-Friendly environment.
All of SE's products are made in the United States, providing more opportunities to influence economic growth.
SE ensures no usable fabric goes to waste by collecting all the scraps of fabrics and donating the items to (charity), with the sole intent to create exclusive items, blankets, or articles of clothing for the less fortunate. In addition, SE donates 10% of all sales to (charity) , to help feed, clothe, and provide shelter for the less fortunate.
SE plans to take a creative approach to branding and marketing the company.
Not only will SE use traditional methods of marketing, such as mailing clothes to celebrities, look books to bloggers and editors, buying editorial spots, sponsoring events, and advertising online, SE will take grass root efforts to the next level in attracting hits to the website, along with social media to keep the clientele engaged.
Sending celebrities, fashion editors and bloggers free gifts never guarantees the promotion of an item, so SE has decided to implement a revenue sharing program with its clothing. Each individual influencer will have a personalized URL to direct their clients to SE's website. Each purchase made within thirty days by the referral of an "influencer" will generate an earnings check of $25 to the referrer. Checks will be cut once the accumulated balance reaches $300, or can be exchanged to store credit.
SE will seek out make up artists, photographers, stylists, and other professionals within the fashion industry to provide an opportunity to earn an extra source of income through its revenue sharing program. SE will also provide clothing to stylists, to have featured in editorial along with video content.
SE's grassroots efforts will take place in the form of carefully selected event sponsorships. Through event sponsorships, models will be showcased wearing the SE product through a trade booth. SE will take pictures of celebrities who try on the products and feature blog posts through social media efforts of the celebrities, while distributing the highly sought out images to fashion bloggers. SE will then pass out $10 SE Clothing Branded Gift Cards to people who fit the role of the target consumer of the brand at the event. Initially, 50,000 gift cards will be made for distribution within the first year, of which we expect at least 25,000 to visit the website URL.
SE will implement a referral based program, where if a friend is referred to purchase an item through the SE website through their email or social media link within 30 days, the customer will have the choice to have one of the following occur:
• $25 will be credited to the referrer's account for Future Purchases.
• $25 will be donated to the referrer's Charity of Choice.
The referee will also receive $10 credited off their first purchase. Studies indicate that 1 out of every 3 customers will refer their friends to a site that they trust and enjoy.
SE will partner with publishers and affiliates such as Google Affiliate, Commission Junction, Avantlink, Affiliate Window, Webgains, Pepperjam, Integrate, Etc. to allow professionals to earn a profit by referring their clientele to purchase items from SE.
In order to create better organic SEO (Search Engine Optimization) results to guide more online traffic to the website, SE will carry lines of both popular name brand and up-and-coming American Made products by other designers, such as Nasty Gal, Diesel, Ralph Lauren, Armani, Etc. In order to acquire the product necessary, SE will create a strategic partnership with its manufacturer to sell their excess inventory.
Once new customers visit the SE site, they will be given an opportunity to register on the site to claim their $10 credit. Through registration, information such as the customer's name, email address, phone number, address, and social media profiles will be gathered.
Once the customer registers, they will be able to access the site. A welcome email will be sent to the customer within one day, welcoming them to the site. Within 5-7 business days, a letter stating SE's appreciation of the customer with an outline of the brand's philanthropic vision will be physically mailed to the customer on company letterhead and hand signed by the C.E.O., Ms. Lee. The customer will then be emailed, informing them that their gift card will expire in 30 days, 3 weeks, 15 days, 7 days, 3 days, 2 days, and a final offer email. This cycle will repeat for another 30 days for a total of 60 days, which will trigger a sense of urgency within purchasing an item within the allotted timeframe.
SE will engage with customers by providing the first few sentences of educational content through email, while providing links to the blogging section of the website to read the full article, along with social media efforts on Pinterest, Facebook, Twitter, DeviantART, Tumblr, Google+, Polyvore, Wanelo, Quora, Lyst, Etc. to build trust with the clientele, and keep them engaged with the brand. SE will track user activity through analytic services provided by Kissmetrics to measure which campaigns work best, to better understand our audience.
SE will influence increases in transaction sizes by donating one item to charity for every $300 spent in a single transaction. Not only would revenues increase, the philanthropic vision would accelerate to creating a bigger influence to society, which in turn will create a better image for the brand.
SE will have a section on the site where users can upload images of their new purchases, how they pair their outfits, provide feedback to others, and like other consumer's styles, creating an engaged society of buyers who become advocates and prosumers of the brand.
SE will begin sales on the retail website, then slowly trickle into many online boutique stores, physical boutique stores, then into major department stores. Since bulk purchases from vendors decrease manufacturing costs, the business model is extremely scalable. As SE becomes a more established brand, price increases will be implemented in 10% increments per season, increasing profit margins while manufacturing costs decrease.
SE will create separate databases for consumers who have at least purchased one item and another database for loyal consumers. In regard to the database of consumers who have purchased, collateral material providing a promo code for a promotional discount will physically be mailed to the clients two weeks prior to an anniversary or holiday sale, to provide exclusive access to the promotion. SE will randomly select users from the loyal consumer database to provide a free gift with purchase, expedited or free shipping, and various other promotional tools to reward brand loyalty.
Once SE establishes a loyal client base, verticals will be integrated one product at a time in minimal quantities, initially to test the market to see how well the product does. Verticals will range from products such as cosmetics, shoes, handbags, hats, stockings, scarves, jewelry, and other womenswear based products.
Led by C.E.O. Ms. Lee, SE has hand selected a managerial team of 8 creative unique individuals to grasp a portion of the $500+ billion dollar market by creating quality content, negotiating with vendors, managing finances, and laying out the long term growth of the company, all while creating beautiful product.
10 years from now, in the year 2023, SE plans to be acquired by LVMH, PPR, Richemont, Valentino Fashion Group, The Aeffe Group, Puig, Diesel, Phillips-Van Huesen, Hermes, Liz Claiborne, Inditex, The Arcadia Group, or Aurora Fashion for a strike price of $300 million. SE is currently seeking seed financing in the amount of $275,000 to be used to cover manufacturing, marketing, legal and operational expenses to establish the brand.
MISSION STATEMENT
United together, SE's commitments to society are as follows:
#1. To Mother Earth:
We vow to make sure that no usable fabric is wasted. All usable scrap material will be recycled into specialty items, blankets or created into articles of clothing for the less fortunate.
#2. To Our Nation:
We vow to Shop American. We vow to only manufacture our product in America. We are creating American jobs and doing our part in rebuilding the American economy.
#3. To Our World:
We vow to take a stance against child labor. We take a stance against the Chinese sweatshops with hazardous work conditions.
#4. To The Less Fortunate:
We vow to provide food, clothing, and shelter for children who are unable to take care of themselves, especially the ones right here at home.
#5. To Our Customers:
We vow to make sure you feel beautiful and (tagline). We vow to create the sexiest, most reliable products made from the best material we can find. We will provide the best fit possible. We will listen to your opinions and make decisions based off of your feedback. Your voice will be heard.
#6. To Our Design Partners
We vow to provide our client base accessibility to your designs to increase your exposure in the market place. Whether you are a small designer who is just beginning or an established brand, there is a place here for you to showcase your items, as long as the product is manufactured here in America.
#7. To Our Employees:
We vow to bring the jobs back home and provide fair wages. We vow to provide a fun and friendly stress-free work environment.
#8. To Our Shareholders:
We vow to provide you a seat on our board. We vow to listen to your expertise. We vow to provide returns in a timely manner. We vow to fulfill your philanthropic vision.
Oh, it might be in your best interest to include a mind map as well.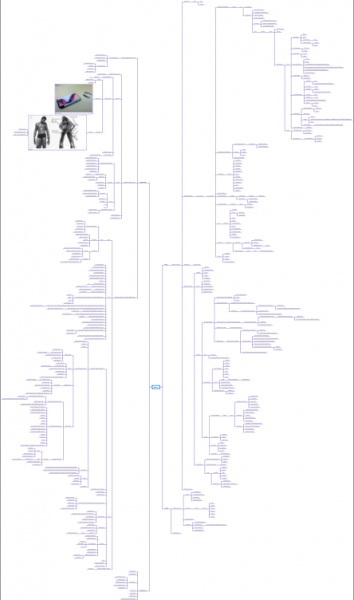 The first five pages should include the following information:
BUSINESS DEVELOPMENT PLAN
MARCH 2013
****** CONFIDENTIALITY & DISCLOSURE NOTICE ******
IMPORTANT: This document is for information purposes only and sent at your request and is covered by the Electronic Communications Privacy Act 18 U.S.C. 2510‐2521. This is neither a solicitation of investment nor an offer to sell and/or buy securities. This communication may contain non‐public, private, confidential or legally privileged information and documents intended for the sole use of the designated recipient(s). The unlawful interception, use or disclosure of such information is strictly prohibited under the applicable laws of the U.S.A. and the State of Nevada. Any review, retransmission, dissemination or other use of, or taking of any action in reliance upon this information by persons/entities other than the intended recipient is prohibited. If you received this document and / or a transmission of this document in error, delete any electronic copies of this document and / or return this document to (Name, Address)
CONFIDENTIALITY & DISCLOSURE NOTICE
IMPORTANT: This document is for information purposes only and sent at your request and is covered by the Electronic Communications Privacy Act 18 U.S.C. 2510-2521. This is neither a solicitation of investment nor an offer to sell and/or buy securities. This communication may contain non-public, private, confidential or legally privileged information and documents intended for the sole use of the designated recipient(s). The unlawful interception, use or disclosure of such information is strictly prohibited under the applicable laws of the U.S.A. and the State of California. Any review, retransmission, dissemination or other use of, or taking of any action in reliance upon this information by persons/entities other than the intended recipient is prohibited. If you received this document and / or a transmission of this document in error, delete any electronic copies of this document and / or return this document to (Name, Address)
CONFIDENTIALITY AGREEMENT
The undersigned reader acknowledges that the information provided within this Business Development Plan ("BDP") is confidential; therefore, reader agrees not to disclose it without the express written permission of SE.
It is acknowledged by reader that information to be furnished in this BDP is in all respects confidential in nature, other than information which is in the public domain through other means and that any disclosure or use of same by reader, may cause serious harm or damage to SE and other sources identified herein. The information, estimates and projections contained herein have been prepared by SE in good faith and on a basis believed to be reasonable; such estimates and projections involve significant elements of subjective judgment and analysis. No representation or warranty, expressed or implied, can be made as to the accuracy or completeness of such information, and nothing contained in this BDP is, or shall be relied upon as, a promise or representation as to the past or the future. This BDP is submitted in connection with the evaluation of a potential transaction and may not be reproduced or used, in whole or in part, for any other purpose.
Upon request, this document is to be immediately returned SE,.
___________________
Signature
___________________
Name (typed or printed)
___________________
Date
This is a Business Development Plan. It does not imply an offering of securities
FORWARD LOOKING STATEMENT
This document may contain certain forward-looking statements within the meaning of Section 27A of the Securities Act of 1933, as amended, and Section 21E of the Securities Exchange Act of 1934, as amended, including, but not limited to, statements as to future operating results and plans that involve risks and uncertainties. We use words such as "expects", "anticipates", "believes", "estimates", the negative of these terms and similar expressions to identify forward looking statements. Such forward-looking statements involve known and unknown risks, uncertainties and other factors which may cause the actual results, performance or achievements of the Company to differ materially from any future results, performance or achievements expressed or implied by those projected in the forward-looking statements for any reason. References herein to "the Company," "we," "our," "us" and similar words or phrases are references to SE, and/or its subsidiaries, unless the context otherwise requires.
CONTACT INFORMATION
Inquiries may be directed to the appropriate party below:
Leonard Kim
COO
SE
Address:
Phone:
Fax:
Email:
The Table of contents should include the following information that no one, aside from analysts read:
TABLE OF CONTENTS
1.0 EXECUTIVE SUMMARY
1.1 OBJECTIVES
1.2 MISSION
1.3 KEYS TO SUCCESS
2.0 COMPANY SUMMARY
2.1 CAPITALIZATION SUMMARY
2.2 COMPANY LOCATIONS AND FACILITIES.
3.0 PRODUCTS AND SERVICES
3.1 THE SE TECHNOLOGY
3.2 COMPETITIVE COMPARISON
3.3 MARKETING MATERIAL
3.4 TECHNOLOGY FULFILLMENT
3.5 FUTURE PRODUCTS AND SERVICES
4.0 MARKET ANALYSIS SUMMARY
4.1 MARKET SEGMENTATION
4.2 TARGET MARKET SEGMENT STRATEGY
4.2.1 MARKET NEEDS
4.2.2 MARKET TRENDS
4.2.3 MARKET GROWTH
4.3 SERVICE BUSINESS ANALYSIS
4.3.1 BUSINESS PARTICIPANTS
4.3.2 DISTRIBUTING A PRODUCT
4.3.3 MAIN COMPETITORS
5.0 WEB PLAN SUMMARY
5.1 WEBSITE MARKETING STRATEGY
5.2 DEVELOPMENT REQUIREMENTS
6.0 STRATEGY AND IMPLEMENTATION SUMMARY
6.1 SWOT ANALYSIS
6.1.1 STRENGTHS
6.1.2 WEAKNESSES
6.1.3 OPPORTUNITIES
6.1.4 THREATS
6.2 STRATEGY PYRAMID
6.3 VALUE PROPOSITION
6.4 COMPETITIVE EDGE
6.5 MARKETING STRATEGY SUMMARY
6.5.1 POSITIONING STATEMENT
6.5.2 PRICING STRATEGY
6.6 SALES STRATEGY
6.6.1 SALES FORECAST
6.7 MILESTONES
7.0 MANAGEMENT SUMMARY
7.1 ORGANIZATIONAL STRUCTURE
7.2 MANAGEMENT TEAM
7.3 MANAGEMENT TEAM GAPS
7.4 PERSONNEL PLAN
8.0 FINANCIAL PLAN
8.1 START-UP FUNDING
8.2 KEY FINANCIAL INDICATORS
8.3 BREAK-EVEN ANALYSIS
8.4 PROJECTED PROFIT AND LOSS
8.5 PROJECTED CASH FLOW
8.6 PROJECTED BALANCE SHEET
8.7 BUSINESS RATIOS
8.8 THE INVESTMENT OFFERING
8.9 VALUATION
8.10 USE OF FUNDS
9.0 APPENDICES
TABLE: SALES FORECAST
TABLE: PROFIT AND LOSS
TABLE: PROFIT AND LOSS
TABLE: CASH FLOW
TABLE: CASH FLOW
TABLE: BALANCE SHEET
If you're using a business plan to try to obtain a loan for a small business… I took a different business plan for a nightlife company, brought a cofounder with a 680 credit score, and went to Page on Longbeachsbdc and they helped me get approved for a loan from a credit union for $30,000 two years ago. The whole process took less than a week, since we already had our business plan finished prior to showing up. We ended up not taking the loan because our programmer ran off with the money we had paid him prior without delivering our technology.
There are Small Business Development Centers, sponsored by the Small Business Association, all across the United States that will help you make a business plan for free, read it, and even shop it out for business loans.
If you're using a business plan to obtain financing from an Angel Investor or VC, then all that matters is your executive summary and your slideshow. I mean, you still need the other data filled in, but these are the only two areas of which they put their main focus on. However, a lot of investors use two financial analysts to carefully go over every detail within a business plan prior to investing their own cash. So, the fine details are pretty important regardless of what anyone else says.
Also, if you need to know how to split equity with your startup, read more here: How much equity do you give early employees when the company is bootstrapped?
—
Originally posted on Quora.
Leonard Kim is Managing Partner at InfluenceTree. At InfluenceTree, Leonard and his team teach you how to build your (personal or business) brand, get featured in publications and growth hack your social media following.