Published Works
Books published by Leonard Kim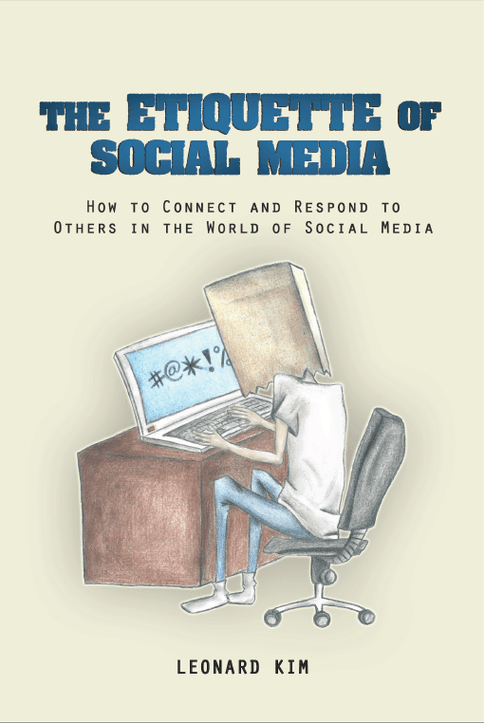 The Etiquette of Social Media
Leonard Kim is the author of the book, The Etiquette of Social Media: How to Connect and Respond to Others in the World of Social Media. Description: 30% of College Admissions Officers found something online about an applicant that negatively impacted their college application. [1] More than two in five (43%) Hiring Managers found information online that caused them […]
Life and Business Advice: Straight From the Source
Repeat positive affirmations on a daily basis. Interrupt patterns when you have negative thoughts. Associate negative thoughts with pain and positive thoughts with pleasure. Walk with your back straight. Smile. — Originally posted on Quora. Leonard Kim consults startups and writes books like The Etiquette of Social Media: How to Connect and Respond to Others […]
I absolutely love Leonard Kim's personal stories. The bravery in the fact that he chronicles his lowest points, clearly encourages many other people (myself included) to do the same.
Ellen Vrana: Writer, Former Consultant at McKinsey & Co, Graduate of Harvard and Stanford.
London, United Kingdom
- Ellen Vrana
Leonard Kim has a real good style.
James Altucher: American hedge fund manager, Entrepreneur, Bestselling Author.
New York, United States
- James Altucher
Leonard Kim is a good soul committed to helping people like you. He presents life and work advice in a way that busy readers really appreciate and understand.
Terrence Yang: Startup Investor, Mentor. Founder, Yang Ventures. USC, Harvard Law. Ex-Wall Street.
Los Angeles, California, United States
- Terrence Yang