On the first of February, I was taking a trip from my home to Vons to pick up a few groceries. On the way over, I wanted to stop by my local donut shop for a snack. You know, the kind of place that is always filled with cops but no one else ever goes to. I was eager to get my hands on a ham and cheese and jalapeño croissant.
To my surprise, when I drove by at 2pm there was a line of 20 people outside. Disappointed in the line, yet eager to eat this croissant later in the day, I drove back across the venue at 8pm. This time, there was a line of 40 people. I couldn't believe what I was seeing. There was a line down the street! Just the month before, the place was a ghost town!
Was California Donuts published in a news article?
No.
There was nothing after a thirty minute search on Google.
But what changed?
Then after Googling around for a while, I went to their social media page on Instagram. Tens of thousands of followers! Is this what triggered the lines in front of California Donuts? But where did these followers come from? How did this happen? Then I started to examine the posts. The marketing strategy was exactly the same as Mayly Tao's, the Donut Princess of DK's Donuts in Santa Monica.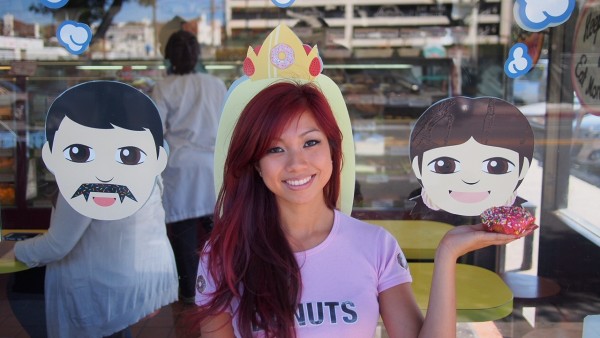 (She even has a tiara!)
Inspired and intrigued, I reached out to Mayly Tao to ask if she owned this venue. She said she didn't, but in my head, I knew that they had copied her style. So I had to take it upon myself to meet with her to see what she did to revolutionize the dying donut industry.
Luckily, she agreed to meet me for an interview:
Leonard Kim: So Mayly, tell me a bit about yourself.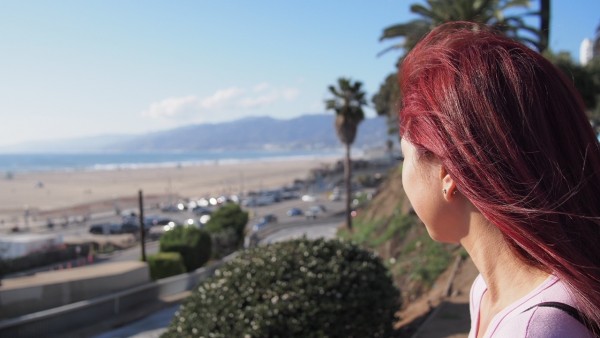 Mayly Tao: My name is Mayly Tao. I am 25 years old. I was born in Fountain Valley, California and I am one of the co-owners of DK's Donuts and Bakery.
Leonard Kim: So when did you start running DK's Donuts?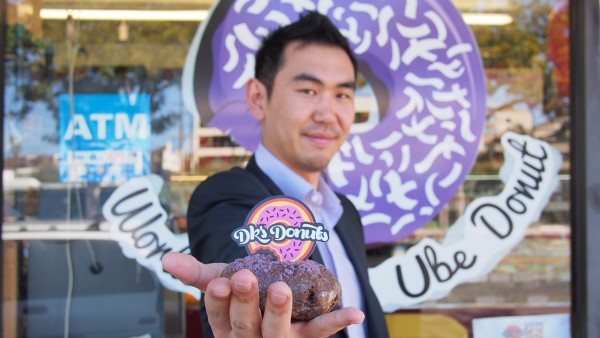 (Ube donut)
Mayly Tao: After I graduated college in 2012, I wanted to pursue a career in broadcasting and journalism. I interned for a news station for six months and I did PR and Marketing for another six months with UCSD. I started to realize that the corporate life wasn't for me as there were too many politics involved.
Instead, I decided to come back home. My brother and my mom had asked me to come back and help at the shop. On the outside, it may look like everything is always in order, but the bakery is always crazy. There are so many things that you see as a small business owner that you don't see as a consumer. You have to worry about the product, freshness and quality. You have to worry about your employees. You have to worry about advertising, sales and marketing. There's always something to improve upon. When my family asked me to come back to the shop, I realized that DK's Donuts needed some rebranding.
Leonard Kim: So what brought about your ideas to rebranding the business?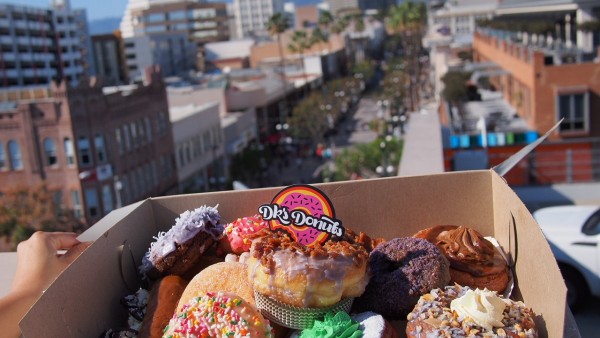 Mayly Tao: Our local business has our regulars who come in to our original location at 16th and Santa Monica boulevard. They know us due to our location being close to their work or home or if their friends had told them about our amazing donuts.
When I took over, I decided that I needed to rebrand DK's because it just looked so ordinary. I didn't want to be ordinary. I didn't want to look like any other bakery or donut shop on any random street in LA. I wanted us to stick out like a sore thumb. We already had a large variety of products, but I wanted to change things up. I felt there was a need to expand our product line by bringing in some of the more crazier kinds of products. I also felt a need to create a presence on social media and the Internet to showcase what we had.
Leonard Kim: I've always been a fan of building my marketing into my product. Have you done that for your business and if so, how?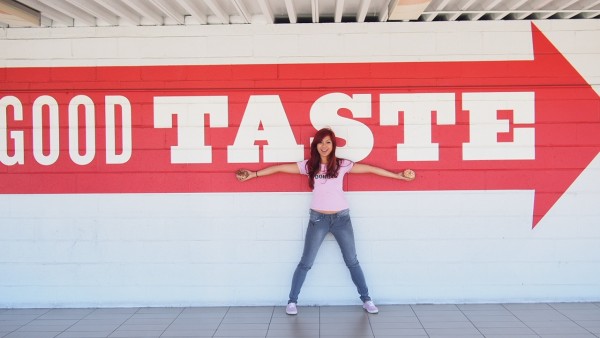 Mayly Tao: In the first six months of taking over DK's, I began implementing change.  I had:
A logo created.
Built some social media presence.
Stickering our boxes
Modernizing our inventory.
Redecorating the look within the inside of the bakery.
After a year of taking over the business, we started carrying products that helped diversify our marketing. The first was the croissant donut. We called it the D-Cronut, but we got a cease and desist letter from the New York bakery that said we needed to stop calling it that. But just because we had to stop calling it that, it didn't mean that we had to stop making them. Now we call it the O-nut.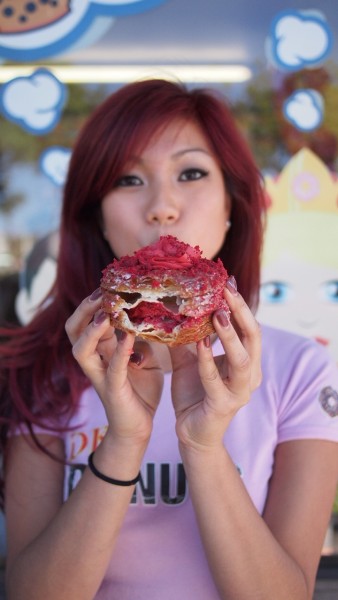 (Red Velvet O-Nut)
We were the first ones on the West Coast to create the half croissant half donut. With that, people had interest in trying this unique forbidden donut that was hard to come by. A donut that had created such a craze, that people would stand in line for hours or pay others to get it for them for $40 to hundreds of dollars.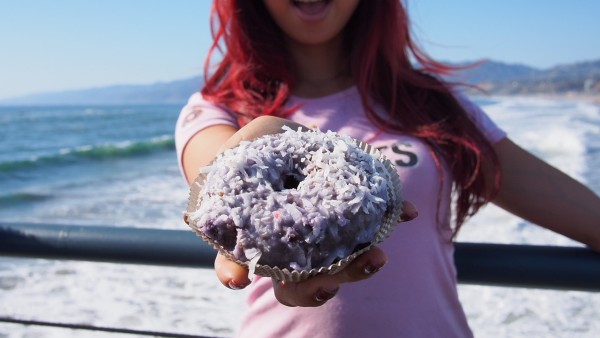 (Purple Cream Cheese Frosting & Shredded Coconut on an Ube donut)
Shortly afterwards, I began introducing the Ube donut. We make the Ube Donut from a fried purple yam. A food that is indigenous to the Filipino people and found in desserts. It is delicious! I collaborated with my friends Gigi at Buttermilk Truck, now called
Buttermilk Inc.
, and Marian, the owner of
Culinary Escort
. All three of us came up with the concept and the idea. We put in our own recipe to create the world's first ube donut.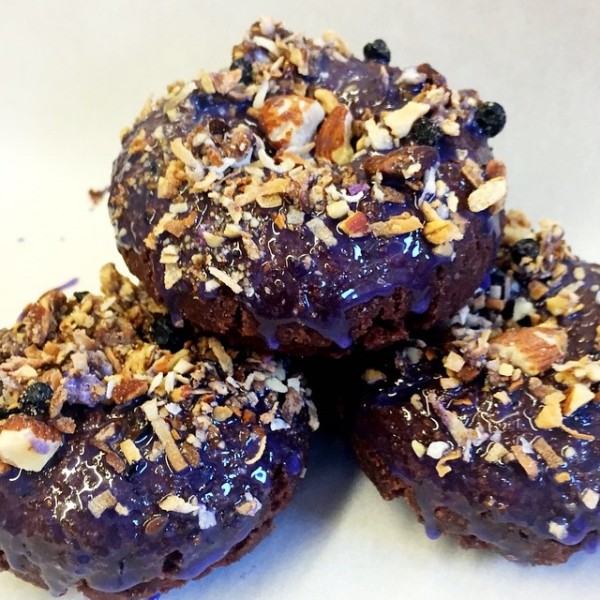 (Blueberry Crunch Ube Donut)
Then we started doing the Wownuts, or waffle donut, which is a half donut half waffle hybrid. We make it by first putting it into a cast iron and then into a deep fryer. Once that process is complete, we garnish it with our own special particular crazy items. We do everything from putting in bits of Oreo's, melted white chocolate, red velvet and well… Just anything that you can think of, we could create for you.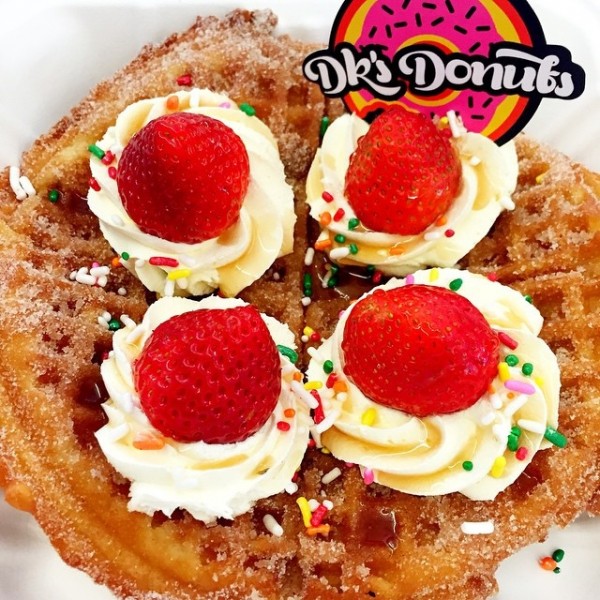 (Wownut Waffle Donut)
After that craze, we began production of the protein donut, which has 5-9 grams of protein. We came up with the idea that if you were eating something sweet, it could have a little kick as well. Plus, if you're eating something sweet, why not feel good about eating it?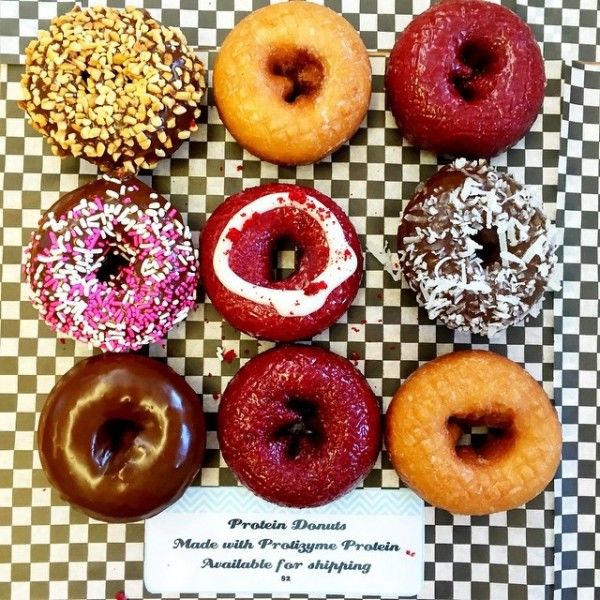 (Protein Donuts)
We built our marketing into our unique product line. By doing so, we were able to differentiate DK's and stick out from the regular donut shops and bakeries of Southern California.
Leonard Kim: What improvements did you see when you implemented your new marketing strategies?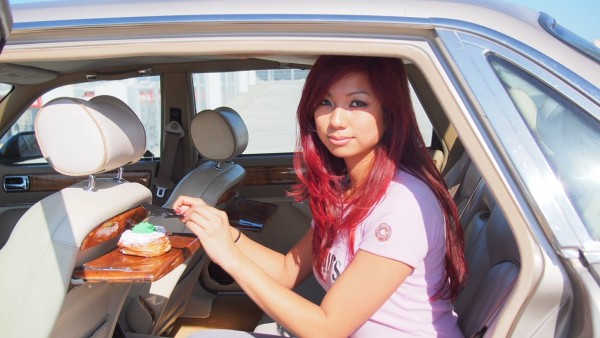 (Green Tea O-Nut)
Mayly Tao: This brings me back to the new products we had created. After I started making all those types of products, we started seeing people from everywhere. I credit our success to the internet because of how easy it is for people to search for food places online. What shocked me the most was the call to attention of how many people have interest in food. Especially food that is different from the ordinary.
We saw significant improvements in our social media as well. I started out our pages with zero likes. Zero likes on Instagram, zero likes on Facebook, zero followers on Twitter. To this date, we have almost 45k followers on Instagram, 6,000 on Facebook and 1,000 on Twitter.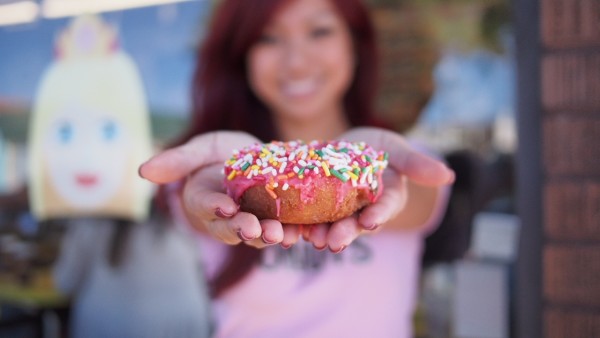 (Sprinkled Donut)
DK's has definitely attracted people from as far as Australia and Germany. I have shipped donuts across the country. People have come to DK's because has turned into a foodie haven. They come to try all the different types of things that we offer.
Leonard Kim: How did social media tie into your marketing?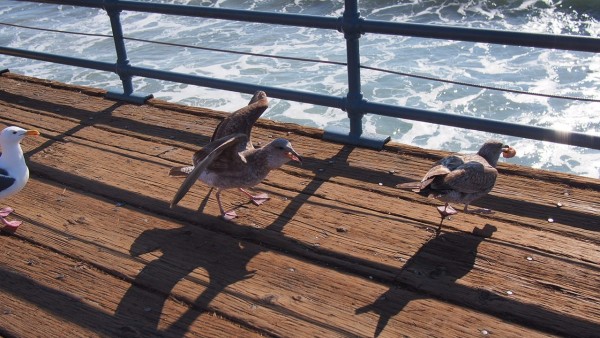 (This seagull just stole one of her donuts!)
Mayly Tao: Social media reaches people all across the world. Before, if you did marketing or advertising, you could only reach people in a certain demographic region. Now communication has evolved to a new point. We're in an era where you can incorporate friends on these platforms. Then within a matter of minutes, you can introduce them to a video or a picture of a product.
After running this business for a while, I have come to find that reading something isn't as seductive as a picture. With that realization, I have depended on incorporating video and pictures into my posts.
The great thing about social media is that it can shout out your message to a thousand or a hundred thousand people with just one post. Late at night or early in the morning, I think of what to post. When I send out the message, I have come to find that it becomes so much closer to the user than it did before. It makes people feel the urge to have that donut or they feel the curiosity of  wanting to try something different and new. The images or videos we post end up making people want to check us out.
Leonard Kim: What do you think is one of the most viral posts you put up on social media?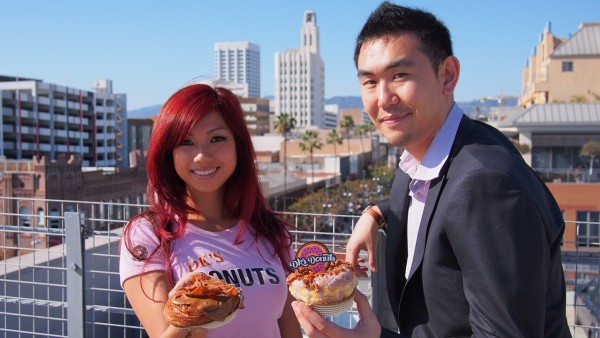 (Maple Bacon Bliss O-Nut, Ube Donut With Bacon!)
Mayly Tao: These are definitely the celebrity posts. Of the celebrities who have come by, Swaggy P. aka Nick Young of the Lakers had the most engagements. Actress Madison Pettis also engaged a lot of her fans. Wayne Brady, Mel Gibson and the Shahs of Sunset are other celebrities whose campaigns have done quite well. Ryan Seacrest, though, he has his own O-Nut at our shop.  When people see that, people get really excited. If someone on social media is a fan of one of our celebrity guests, they end up thinking, "OMG they're at the shop and trying these donuts! I want to try it too!"
Other posts that are pretty effective are the ones that people can relate to. I put up a picture of a donut on my pinky ring and wrote "The Closest I'll ever get to a ring…" That one got a lot of engagements.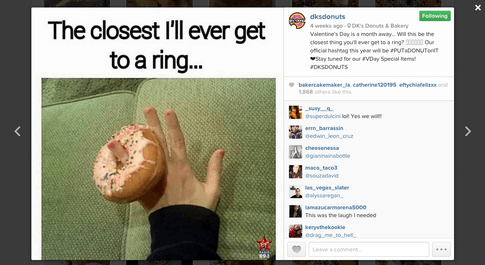 Leonard Kim: Where did you go to school?
Mayly Tao: UCSD.
Leonard Kim: Do you contribute your education to your current business's success?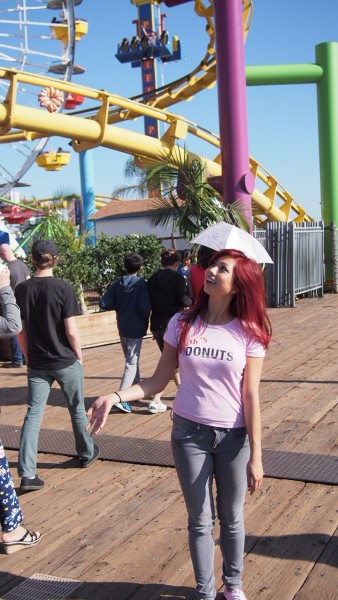 (How did that French Cruller get stuck there?)
Mayly Tao: I do. UCSD is known more for science and research, but it also has a really powerful communications program. We were able to do a lot of hands on video and audio and I learned about marketing. With my internship there, I gained a lot of hands on experience. It also helped me figure out how to tie everything together and relay my message accurately and unbiased. With DK's we were able to do this by trusting our brand and making sure our brand shines through due to our actions online.
Leonard Kim: Do you think you inspired other donut shops to follow your lead in marketing?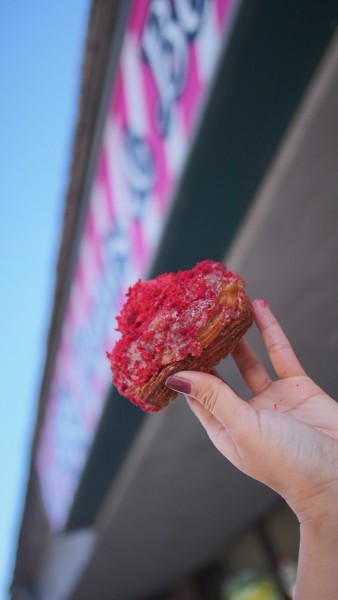 Mayly Tao: Maybe. Donuts are photogenic and loved by all. I have been busy doing my own thing to check up on what everyone else is doing, but donuts are products that people in our society love.
Cambodian refugees who fled from the Khmer Rouge own most of the bakeries. They are families first generation families who have come over to the United States. Now the first generation kids, us, we have been taking over. We have been implementing and changing our businesses for the better.
Our families made it over here from all the killings of innocent people through the wars. Somehow, they established these businesses for themselves without a penny to their name. If it weren't for them, I wouldn't know where we would be today. Yet, it makes me feel good that we are getting through it and making our families proud in the process.
Leonard Kim: How do you feel about paving the way to changing the way donut shops run their businesses?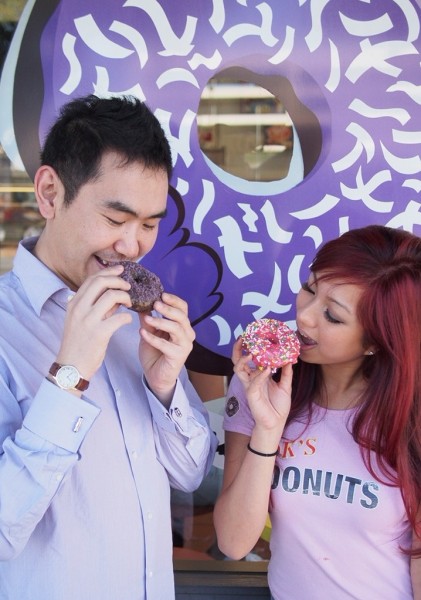 Mayly Tao: It makes me feel as if I have done something great for my own family and for my own brand. I am happy to see others use these strategies to turn their businesses into a success.
Leonard Kim: So two months ago I went to a donut shop. The only two customers were me and a cop. I went by last week and there was a huge line. What do you think caused that?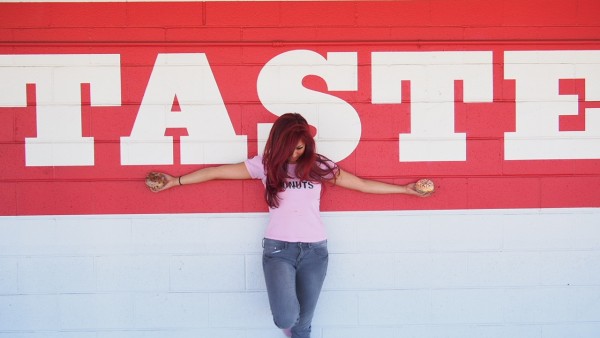 Mayly Tao: It revolves around two key components: Social media and the popularity of donuts. Since donuts are so trendy right now, it has caused so much excitement for a good donut. If you have the backing of a hard working team, a good product and a social media presence, it should bring success to you as well.
Leonard Kim: What do you think got all these bakeries into social media?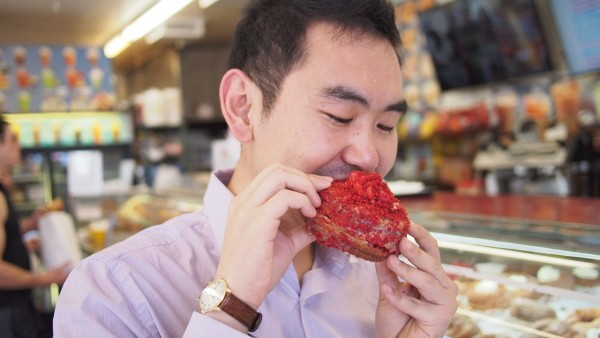 (Yum, so tasty!)
Mayly Tao: We started our social media strategies early on. I feel it kind of gave an idea of how others in my field should run their social media presence. It has taken a lot of engagements and marketing on my own behalf to create that for myself so early on. There were even many trials and errors that I had to go through. Maybe other people were able to use my examples for their own success.
Leonard Kim: So where is your business located now?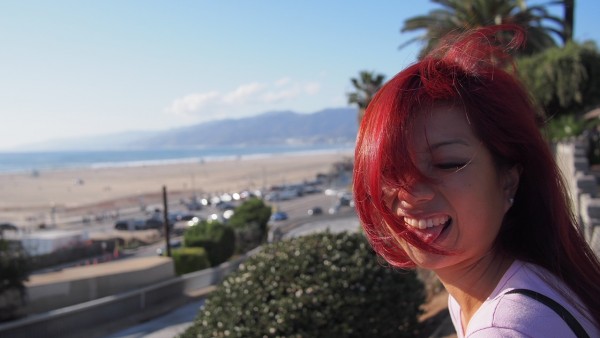 Mayly Tao: DK's Donuts is located on 16th and Santa Monica Boulevard and is open 24 hours a day.
Leonard Kim: So where do you see DK's Donuts in the future?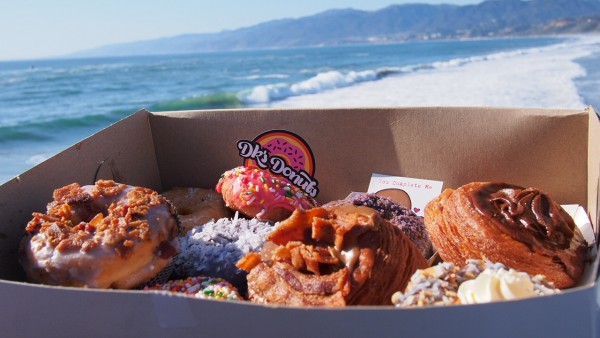 Mayly Tao: DK's Donuts will have many locations in the future. We will be growing strong with the help of our loyal customers, social media, and the hard work behind a donut. We are a hard working family owned businesses that started from scratch who came here with a vision to make a name for ourselves. We hope that we will have a huge following to create many locations where that success will be accepted.
Leonard Kim: Mayly, thanks so much for joining me on this interview! Your in depth insights of how you were able to increase your business's presence were amazing! I hope that many of our readers will be able to come by and check out the amazing donuts at DK's! I know I can't wait to to be back for more!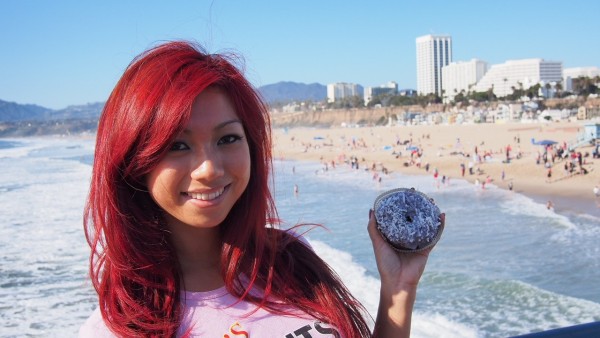 For those of you looking for a specific address, the bakery is located at:
DK's Donuts and Bakery
1614 Santa Monica Blvd
Santa Monica, CA 90404
Follow DK's Donuts on Instagram, Facebook and Twitter.
After having the pleasure of interviewing with Mayly, I went to look up a few other social media accounts on Instagram.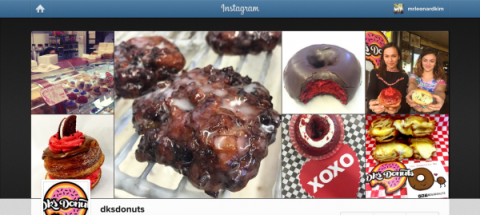 (DK's Donuts.)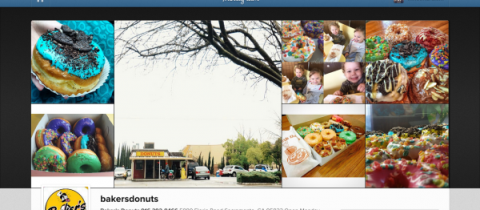 (Baker's Donuts)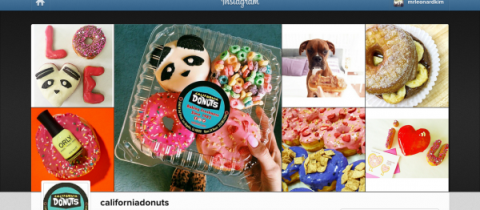 (California Donuts)
Coincidentally, they now have a similar product, marketing style and social media presence. Do you think other donut shops may have copied DK's donuts? Or that Mayly of DK's Donuts created a revolution in the donut industry?
Feel free to comment with your thoughts below!
(Photography Credit: Rayson Esquejo of 2 Live And Dine In LA)
If you've experienced success with your marketing, I would love to hear your success story. Feel free to email me at
[email protected]
.